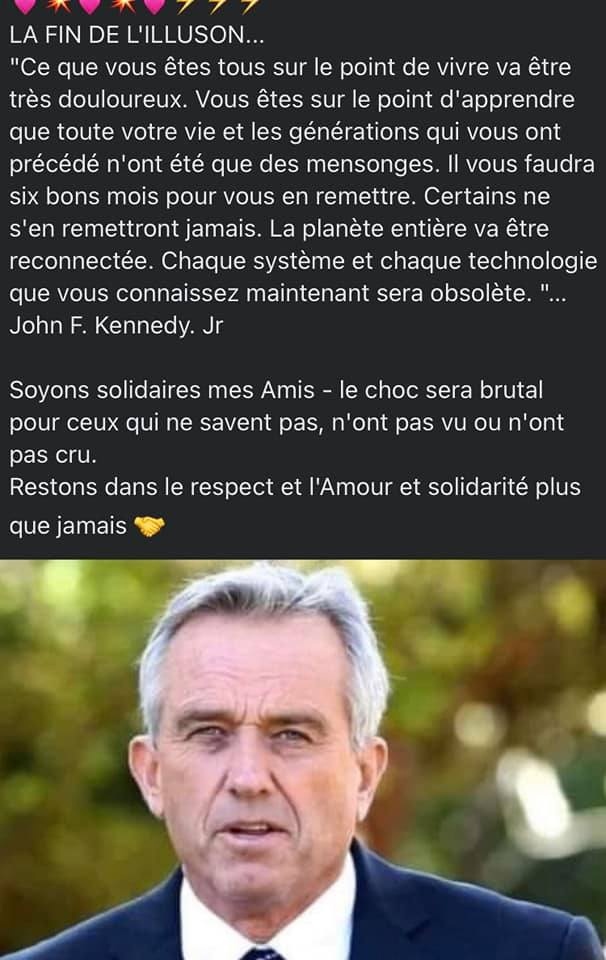 La fin de l'illusion
« Ce que vous êtes sur le point de vivre va être très douloureux. Vous êtes sur le point d'apprendre que toute votre vie et que toutes les générations qui vous ont précédé n'ont été que mensonges. ,il vous faudra 6 bons mois pour vous en remettre. Certains ne s'en remettront jamais. La planète entière va être reconnectée. Chaque système et chaque technologie que vous connaissez maintenant sera obsolète. »
John Ford Kenedy Jr.





Sfârșitul iluziei
"Prin ce vei trece va fi foarte dureros. Ești pe cale să înveți că toată viața ta și toate generațiile care au venit înaintea ta au fost toate minciuni. Îți va lua 6 luni să treci peste asta. Unele nu vor trece. Întreaga planetă va fi reconectată. Fiecare sistem și tehnologie pe care o cunoașteți acum va fi depășită."
John Ford Kenedy Jr.





The end of the illusion
"What you are about to go through is going to be very painful. You are about to learn that your whole life and all the generations that came before you have been all lies. It will take you 6 months to You get over it. Some will never get over it. The whole planet is going to be reconnected. Every system and every technology you know now will be obsolete. « 
John Ford Kenedy Jr.
Total des vues : 97 , Vues aujourd'hui : 5