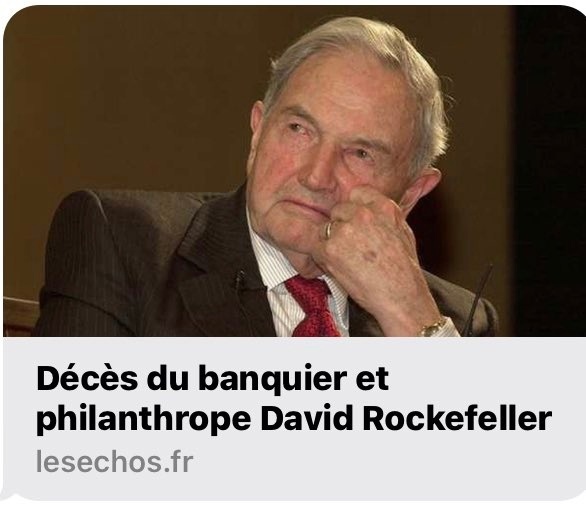 Décès du banquier et philanthrope David Rockefeller
En matière de justice Divine ou Karmique, en voilà un qui a du soucis à se faire…
Il était le dernier petit-fils de John Rockefeller, puissant homme d'affaires de la fin du XIXe siècle à l'origine de la fortune de la famille américaine.
Bancherul și filantropul David Rockefeller a murit
În ceea ce privește Justiția Divină sau Karmică, Iată cineva care ar trebui să fie îngrijorat
A fost ultimul nepot al lui John Rockefeller, puternicul om de afaceri de la sfârșitul secolului al XIX-lea care a construit averea familiei americane.





Banker and philanthropist David Rockefeller has died
In matters of Divine or Karmic justice, here is one who has to worry…
He was the last grandson of John Rockefeller, the powerful late 19th century businessman who built the American family fortune.
Stéphane Guibert / Rares Mihai Florescu
Total des vues : 226 , Vues aujourd'hui : 2