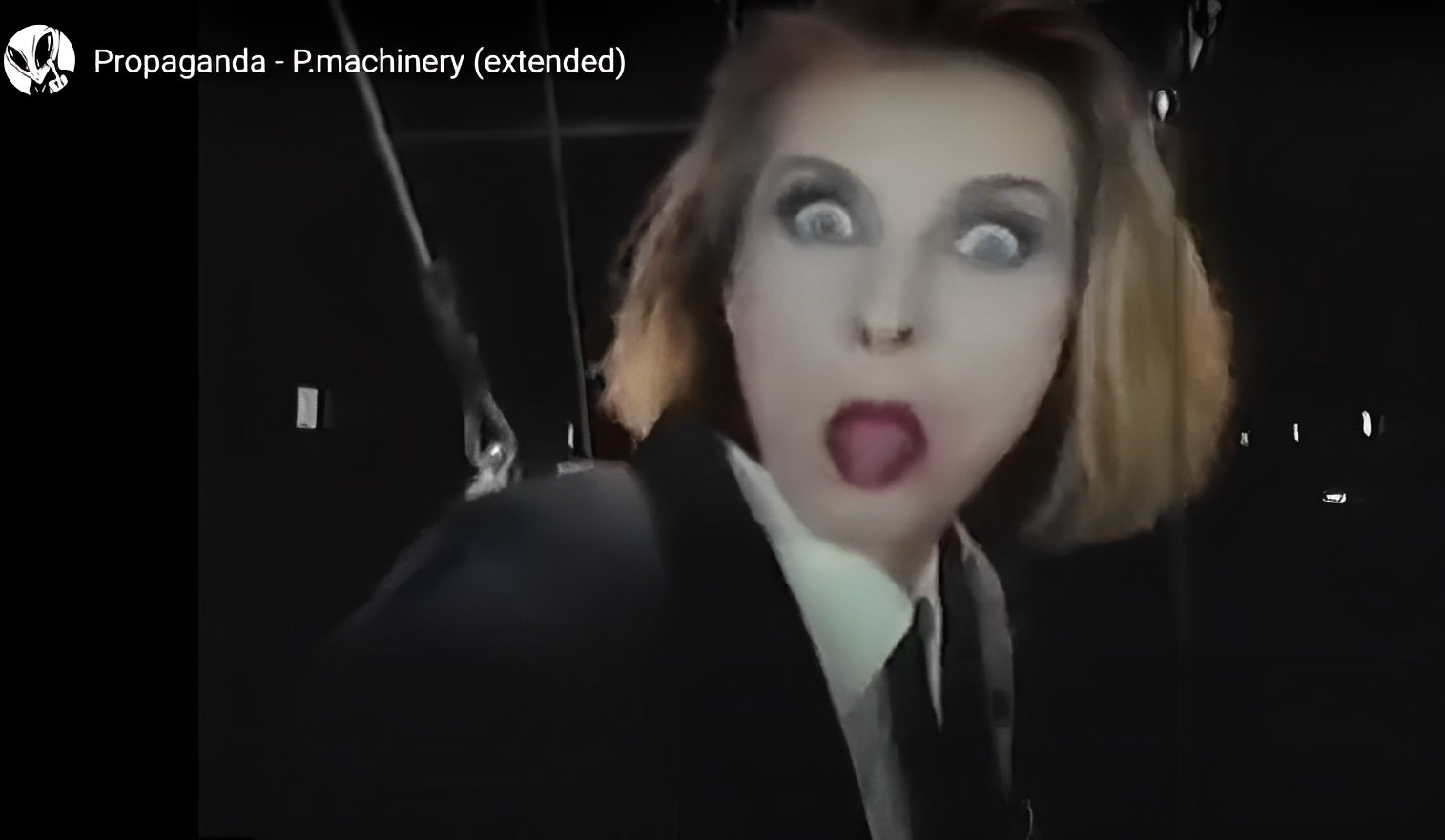 Il y a 40 ans, des artistes nous prédisaient
le monde d'aujourd'hui
***** Propaganda *****
Bref aperçut de l'humain moyen d'aujourd'hui, et du rêve perdu.
Schématique mais tellement réaliste!
05-15 ans :
Formatage des cerveaux, l'école en est la première étape, la base de la pièce montée, le socle, les fondations.
15-18 ans:
Cerveaux pétris, il faut à présent laisser reposer la pâte, faire agir la levure en douceur: Paillettes, lumières, amour pour toujours, l'avenir nous appartient, nous sommes indestructibles, de super héros, nous atteindront les sommets, nous avons tout l'avenir devant nous.
18-25 ans:
Je termine mes études, il faut que je pense à trouver une bonne situation professionnelle, un mari ou une femme (le genre n'est plus à exprimer « LGBT ») un appartement, faire des enfants et être heureux. Après moi le déluge.
25-30 ans:
J'ai deux enfants, une magnifique femme ou mari une belle maison, une belle situation et tout ça, grâce à ce que j'ai appris durant toute ma vie. Nous passons nos dimanche devant un bouquet de chaînes télévisées qui nous offrent des spectacles à couper le souffle, nous avons une belle voiture, une belle maison, un réfrigérateur bien rempli et partons souvent en vacances.
30-45 ans:
Je suis las de ma vie de couple, j'ai l'impression d'être passé à côté de ma vie. Mes gosses me font chier, ils grandissent et m'évitent. Ca va mal au travail. Ils disent que les vieux coûtent trop cher à l'entreprise. Ils veulent dégraisser l'effectif.
45-50 ans:
Je suis divorcé, j'ai perdu mon emploi, perdu ma maison, ma femme c'est remariée, mes enfants font leur vie et ne se rappellent même pas qu'ils on un père. Je décline et j'ai même commencé à boire.
50-55 ans:
Je suis à la rue, plus de perspective, idées noires, dépression, suicide, seul…
55 – Mort:
Illusions perdues vallée des larmes, je n'ai rien vu venir…
Merci à ZTT et Island Records / Merci à Virgin Records
Acum 40 de ani, artiștii preziceau
lumea de azi
***** Propaganda *****
Scurtă privire asupra omului obișnuit de astăzi și a visului pierdut.
Schematic dar atât de realist!
05-15 ani:
Formatarea creierului, școala este primul pas, baza spectacolului, baza, bazele.
15-18 ani:
Creiere frământate, acum lăsați aluatul să se odihnească, lăsați drojdia să lucreze ușor: Sclipici, lumini, dragoste pentru totdeauna, viitorul este al nostru, suntem indestructibili, super-eroi, vom ajunge la culmi, avem viitorul în față.
18-25 ani:
Îmi termin studiile, trebuie să mă gândesc să găsesc o situație profesională bună, un soț sau o soție (genul nu mai trebuie exprimat "LGBT"), un apartament, să am copii și să fiu fericit. După mine potopul.
25-30 ani:
Am doi copii, o soție sau un soț frumos, o casă frumoasă, o situație frumoasă și toate astea, datorită a ceea ce am învățat de-a lungul vieții. Duminicile ne petrecem în fața unui buchet de canale de televiziune care ne oferă spectacole uluitoare, avem o mașină drăguță, o casă drăguță, un frigider bine aprovizionat și mergem adesea în vacanță.
30-45 ani:
M-am săturat de viața mea de cuplu, simt că mi-am ratat viața. Copiii mei mă enervează, cresc și mă evită. La serviciu, se spune că cele vechi sunt prea scumpe. Vor să reducă locurile de muncă.
45-50 ani:
Sunt divorțat, mi-am pierdut locul de muncă, mi-am pierdut casa, soția mea s-a recăsătorit, copiii mei își trăiesc viața și nici nu-mi amintesc să fi avut un tată, am devenit o epavă și un alcoolic
50-55 ani:
Sunt pe stradă, fără perspectivă, gânduri negre, depresie, sinucidere, singur…
55 – Moartea:
Iluzii pierdute valea lacrimilor, nu am văzut nimic venind…
Mulțumim ZTT și Island Records / Mulțumim Virgin Records
40 years ago some artists predicted us
the world we live in today
***** Propaganda *****
05-15 years:
Brain formatting, school is the first step, the base of the show, the base, the foundations.
15-18 years:
Kneaded brains, it is now necessary to let the dough rest, to make the yeast act gently: Glitter, lights, love forever, the future belongs to us, we are indestructible, super heroes, we will reach the heights, we have everything future ahead of us.
18-25 years:
I'm finishing my studies, I have to think about finding a good professional situation, a husband or a wife (the gender is no longer to be expressed as « LGBT »), an apartment, having children and being happy. After me the deluge.
25-30 years:
I have two children, a beautiful wife or husband, a beautiful house, a beautiful situation and all that, thanks to what I have learned throughout my life. We spend our Sundays in front of a bouquet of television channels that offer us breathtaking shows, we have a nice car, a nice house, a well-stocked fridge and often go on vacation.
30-45 years:
I'm tired of my life as a couple, I feel like I've missed out on my life. My kids piss me off, they grow up and avoid me. It's bad at work. They say the old ones cost the company too much. They want to downsize the workforce.
45-50 years:
I'm divorced, I lost my job, lost my house, my wife remarried, my children live their lives and don't even remember that they have a father. I decline and even started drinking.
50-55 years:
I am homeless, no perspective, dark thoughts, depression, suicide, alone…
55 – death
Lost illusions, valley of tears, i saw nothing coming…
Many thanks to ZTT and Island Record / Many thanks to Virgin Records
Stéphane Guibert / Rares Mihai Florescu