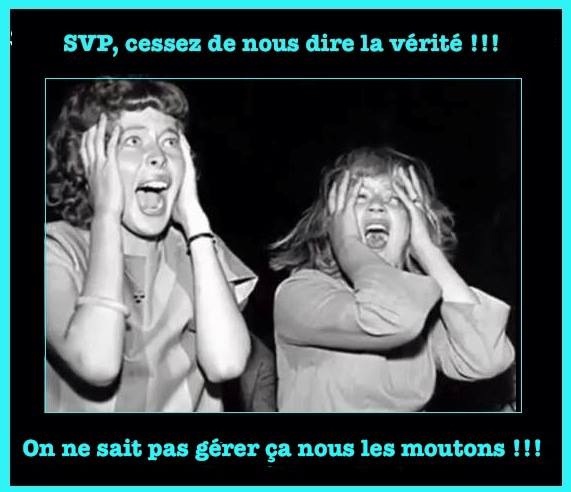 La définition de l'humain d'aujourd'hui en vidéo. (Français, sous-titré en Anglais)
A definição do ser humano de hoje em vídeo. 

(franceză, subtitrat în engleză)

The definition of today's human being in video. (French, subtitled in English)
Déni et ignorance
Image:
« S'il vous plait, cessez de nous dire la vérité!!! On ne sait pas gérer ça nous les moutons!!! »
Le déni vous va comme un gant
Message à l'attention des moutons de Panurge
Déni: Définition:
Le déni est l'attitude de refus de prendre en compte une partie de la réalité, vécue comme inacceptable par l'individu. En psychanalyse, c'est un mécanisme de défense, par lequel le sujet refuse de reconnaître la réalité d'une perception ressentie comme menaçante et/ou traumatisante.
Mouton de Panurge définition:
L'expression « mouton de Panurge » désigne un suiveur : une personne qui imite sans se poser de questions, qui suit instinctivement ce que fait le plus grand nombre et se fond dans un mouvement collectif sans exercer son esprit critique ni seulement faire preuve de l'intelligence qu'on peut espérer d'un être humain.
Déni și ignoranță
Imagine:
« Vă rog să nu ne mai spuneți adevărul!!! Noi, oile, nu știm cum să ne descurcăm cu asta!!! »
Negarea ți se potrivește ca o mănușă
Mesaj pentru Panurge's Sheep
Negare definiție:
Negarea este atitudinea de refuz de a lua în considerare o parte din realitate, trăită ca inacceptabilă de către individ. În psihanaliză, este un mecanism de apărare, prin care subiectul refuză să recunoască realitatea unei percepții resimțite ca amenințătoare și/sau traumatizante.
Definiția oilor Panurge:
Expresia "oaia lui Panurge" desemnează un adept: o persoană care imită fără să pună întrebări, care urmărește instinctiv cel mai mare număr și se integrează într-o mișcare colectivă fără a-și exercita spiritul critic sau a arăta inteligența de care se poate aștepta de la un om.






Denial and ignorance
Picture:
« Please stop telling us the truth!!! We sheep, don't know how to handle this!!! »
Denial fits you like a glove
Message to Panurge's Sheep
Denial definition:
Denial is the attitude of refusal to take into account a part of reality, experienced as unacceptable by the individual. In psychoanalysis, it is a defense mechanism, by which the subject refuses to recognize the reality of a perception felt to be threatening and/or traumatic.
Panurge sheep definition:
The expression « sheep of Panurge » designates a follower: a person who imitates without asking questions, who instinctively follows what the greatest number is doing and blends into a collective movement without exercising his critical spirit or only showing intelligence that can be expected from a human being.
Stéphane Guibert / Rares Mihai Florescu
Total des vues : 131 , Vues aujourd'hui : 3